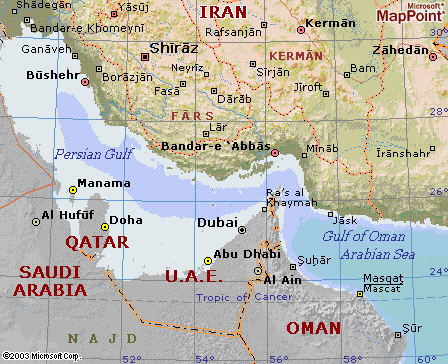 The Gulf Weekly Analysis, July 1-6
SYRIA
An al-Qaeda styled militia fraction, al-Nusra, claimed responsibility for the attack and murders at a pro-regime television station last week. The presence of this and possibly other al-Qaeda-esq groups in Syria could harpoon the efforts of rebel groups in creating a united front against the a-Assad regime. However, the presence of this group shows that the presence of anti-Basshar forces is no longer simply concentrated to the North.
A plan proposed selected World Leaders at a conference organized by UN Special Envoy to Syria, Kofi Annan, has shown to be fruitless and inactive. The conference, which excluded participation from Iran, Saudi Arabia, and Syria, also continues to highlight the inability of World Leaders to create and push to implement a strong comprehensive plan to end the ongoing conflict.
On Thursday, Wikileaks released 2.5 million email correspondences from top Baath officials in the al-Assad regime. The correspondences, ranging from August 2006 to March 2012, are between top officials in various ministries and Syrian companies to Western companies. While the emails themselves will have little effect on the conflict, it does highlight the lack of consistency the West has when it comes to following through on actions such as sanctions.
Iran
Earlier this week, Iran said that it had successfully tested medium-range ballistic missiles with video and images of the test being broadcasted on television by Iran's state news agency, IRINN. These medium-range missiles are expected to capable of hitting Israel and US military bases in the region. It has not been confirmed if Iran's Fajr-3 missile was among those tested. Despite claiming that the range of their medium-range ballistic missiles can reach 2000 km, the actual capability and threat is unknown as the maximum range from the tests was 1300 km. These test show that Iran is capable of building its own ballistic missiles despite sanctions from the US and Europe. It also shows that there is no end in sight in increasing military presence in the Gulf region.
Saudi Arabia
IOC President Jacques Rogge cannot make a guarantee that Saudi Arabia will be sending female athletes to the London Olympics despite the kingdom announcing that female athletes would be allowed to do so. Alixandra Greenman, No Women. No Play. Campaign Coordinator at the Institute, states that "After two and half years of hearing 'we're working on it' from IOC President Jacques Rogge and with the Olympics just a few weeks away, time is running out for Saudi female athletes to be allowed to participate in the Olympics for the very first time. If the issue is not resolved soon, it is up to the international community to pressure the IOC into banning Saudi Arabia from participating in the Olympics until there is a royal decree similar to the United States' Title IX legislation."
If Saudi Arabia does not send female athletes to London, it will be the only country without female competitors. The banning of women from the Olympics and athletics in general, is just one of Saudi Arabia's human rights violations against women. To learn more about the Institute's 'No Women. No Play' campaign, visit nowmennoplay.org

Andrew Bond is Chief Political Risk Analyst