IGA Board
Dr. Mir Zohari Husain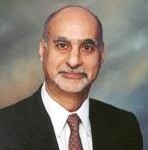 Dr. Mir Zohair Husain, Ph.D. is a associate professor at the University of Southern Alabama. He has taught courses such as International Relations of the Middle East, Foreign Policies of the Major Powers, South Asian Studies, and many other political science courses. He has presented numerous lectures on a myriad different topics for the World Affairs Council of Philadelphia as well as for the University of Pennsylvania's College-University Program, Speaker's Bureau, and International Classroom Program. He has Published many articles in peer-reviewed academic journals presented many academic papers at professional conferences.
Majeed H. Alsikafi Ph.D.
Majeed H. Alsikafi is a Professor Emeritus at the University of Alabama Department of Political Science. He holds the M.A. Oklahoma State University and Ph.D. Louisiana State University. Professor Alsikafi has also held Visiting Professor at Dokkyo University in Saitama, Japan in 1989. Areas of teaching include Political Psychology, Political Sociology, Organizational Theory and Sociopolitical System of Japan. Among recent publications are "The Subjectivity of Attribution", in Education and Society, 1992; "A New Japanese Business Paradigm" Dokkyo International Review, 1996; "The Politics of Trade Conflict Between Japan and the United States" Dokkyo International Review, 1997.