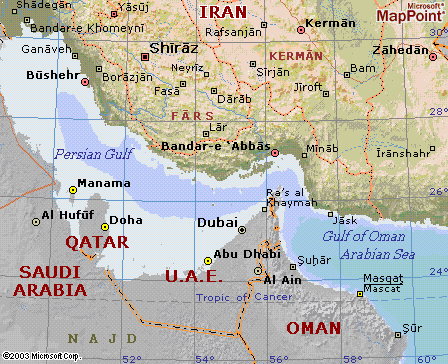 The Gulf, Weekly Analysis July 14-20
The Gulf, Weekly Analysis July 14-20
Saudi Arabia
Former Ambassador to the United States, Prince Bandar bin Sultan, has replaced intelligence chief Prince Murqrin bin Abdulaziz who possibly has cancer. According to the royal decree carried by SPA, Prince Bandar will maintain his position as secretary general of the National Security Council while he heads the General Security Presidency.
Bahrain
Bahrain's Interior Minster and its US envoy are secretly meeting with various human rights organizations, and members of the US government including Congressmen and White House officials in order to resolve the Kingdom's conflict which has been going on for almost a year and half. Bahraini police also announced that a sixth suspect had been arrested from a group 20 wanted over "terror attacks" in the Kingdom. Since protests began in February 2011 60 people have been killed according to human rights organization Amnesty International.
United Arab Emirates
The UAE has continued its crackdown on Islamists and dissidents having arrested at least 7 this week. According to Emirati officials those arrested this week are part of a foreign-linked group that is being investigated for planning "crimes against the security of the state" Among those arrested this week include Mohammed al-Mansouri, head of the Islamist group Islah (Reform), and prominent lawyer Mohammed al-Roken who is representing seven detainees who have already had their citizenship stripped. The UAE, who has banned any organized opposition group and managed to avoid political unrest from the Arab Spring, has become worried following the political rise of Islamists in Egypt and Tunisia. While they share a similar ideology, the Emirati Islamists deny any connection to the Muslim Brotherhood and seek greater civil rights and more power for the Federal National Council, a quasi-parliamentary body that currently only provides advice to the government and has no legislative power. Not including those arrested this week, 20 dissidents and activists have been arrested since April.
Syria
The Iraqi Army sealed its border with Syria using concrete blast walls after Rebels seized control to all border crossings on Thursday. Control between the rebel Free Syria Army and Assad loyalists over Damascus intensified this week following a bombing in which at least three people, including President Assad's brother-in-law, Defense Minister General Daoud Rajha, where killed and several, including Interior Minister Mohammed al-Shaar and National Security head, General Hisham Ikhtiyar, were wounded. The FSA claimed responsibility for the attack which State media fist called a "suicide bombing" before retracting and calling it a "terrorist attack." According to the Syrian Observatory for Human Rights, some 200 people died on Thursday alone.
Fears increased in the West that Assad might be ready to use Syria's chemical weapons arsenal in an attempt to maintain power and save his embattling regime according to an interview given by Nawaf Fares, who defected last week, to the BBC. A UN resolution against the Assad regime which also sought tougher sanctions was once again vetoed by Russia and China.