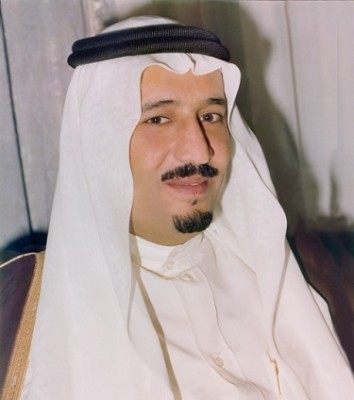 Investigation: Murder in the Palace: Saudi King Salman said to have murdered own son
By Ali AlAhmed

September 3, 2015
Washington DC – Saudi King Salman who is meeting American President Barack Obama Friday murdered one of his sons because of his dark skin color, multiple sources within the Saudi ruling family told the Institute for Gulf Affairs.
The victim, Abdullah, was born to an African slave girl during the 1950s when slavery in KSA was legal, and thousands of slaves, black and white, filled Saudi palaces. Since the establishment of the Saudi kingdom in 1932, Saudi princes fathered hundreds of children with female slaves from the Middle East and Africa.
The most famous son of a black slave mother and a Saudi royal is prince Bandar bin Sultan, a former Saudi ambassador to Washington. Other senior princes, including brothers of king Salman, were born to white slave girls. Princes Talal bin AbdulAziz and Mishaal bin Abdulla Aziz, older brothers of the king, were born to Armenian slave girls who along with hundreds of others were sold to the Saudi ruling family after the Armenian genocide of 1915, and have given birth to unknown number of offspring.
King Salman's son Abdullah was murdered in AlNakhil hotel in Riyadh in the early 1980, said a Saudi prince and a nephew of King Salman, who declined to be named. During the September 1st, 2015 phone interview, he said King Salman was responsible for the murder and for the cover up.
Prince Turki bin Bander AlSaud, a nephew of King Salman who is in exile in France also alluded to the murder in a YouTube statement published in 2014. Turki who is the son of the King's sister AlBandari, said addressing Salman "I have the evidence of your cover up of three murders, including one that you are personally involved." Turki refused to discuss the details of his comments. Turki's statement on YouTube
The hotel where the murder took place was demolished immediately after the killing, and its site was used to build the Riyadh Convention Center. "Abdullah was killed the same year the hotel was demolished", recalled the Saudi prince who couldn't remember the exact date of the murder.
Sources agree that the likeliest reason for his murder was the king's refusal to have a black skinned son. Salman's older brother Sultan who was crown prince refused to recognize his son Bandar for the same reasons until King Faisal forced him to by marrying his daughter Haifa to Bandar. Two separate sources from the Saudi ruling family said that Abdullah's mother concealed his birth and existence from Salman, and raised her son under a different name in fear that Salman would harm him.
At the time Abdullah's mother finally revealed his real father's identity to her son, Salman was the ruler of Riyadh. "He looked like Salman", the prince said. Sources report Abdullah went to the Riyadh governor's headquarters to meet his father and inform him of his existence, and was put into AlNakhil hotel in AlNasiriyah a district of Riyadh under guard following the meeting. A nephew of the Salman said that King Fahd pressured Salman to recognize his son. Instead, Abdullah's life was ended and his body buried in unknown location.
"Abdullah was older than me when he was killed", said the source. "He was over 30 and had two children."
King Salman married officially to five different women, but is known to have unofficial relations with many others. He has a total of 13 children in addition to Abdullah.
Saudi blacks face official discrimination and are not allowed to assume any senior government position including judges, diplomats, prosecutors, lawyers, heads of government agencies, and many other government jobs. The large Saudi delegation arriving with King Salman to Washington today is an example of Saudi racist [polices. There are no black officials in the delegation.
All attempts to reach the Saudi government and King Salman by phone and via his twitter account were unfruitful. An email sent to the Saudi embassy information office was not returned.
Note: Due to the secretive nature of the Saudi state and fear by many contacted for the story, additional details were not accessible. We published the story with the information we could gather and hope we or others will pursue this story further.