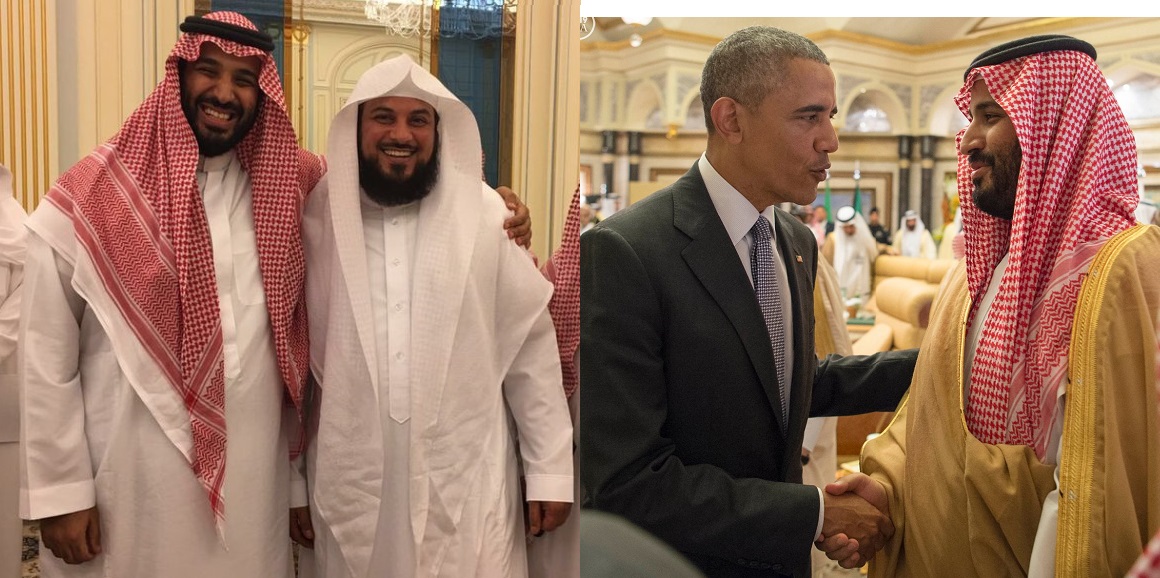 Saudi Deputy Crown Prince Meets Obama after Welcoming an ISIS Supporter
June 17, 2016
By IGA Staff
Washington DC – Saudi Deputy Crown prince, minister of defense and the son of King Salman is scheduled to meet with President Barak Obama at the White House Friday. This meeting comes only weeks after the deputy crown prince welcomed an influential ISIS promoter at his Riyadh palace, the Gulf Institute has learned.
Mohamed Bin Salman who arrived in the United States on Monday and has since met with leading American political and security officials has hosted Mohamad AlArefe, a known promoter of ISIS and AlQaeda, at his palace in Riyadh on April 25th. A photo of smiling Mohamed bin Salman grasping AlArefe's hand was published on the latter's Twitter account.
Mohamad AlArefe, a Saudi national and popular TV personality, is one of the most influential voices in Arabic and other languages drumming up public support for ISIS and similar groups. AlArefe speeches and writings linked below openly express support for ISIS and AlQaeda, which has led to thousands of Saudi and other Muslims youths joining ISIS and AlQaeda in various countries. Al-Arefe enjoys a large following across the world among Sunni Muslim youth, including in the United States.
The U.K. government has recently revoked Al-Arefe's visa and excluded him from entering the country after the British ITV news channel aired a report on links between AlArefe and several British members of ISIS fighting in Syria. The report also covered Al-Arefe's efforts to recruit young British men to join ISIS.
AlArefe was also linked to the Saudi suicide bomber Saleh AlQashami, who blew himself inside a Shia mosque May 2015, killing 26 worshipers. Al-Arefe and AlQashami's grandfather and caretaker, Abdullah AlQashami are friends.
In recent tweets and posts Al-Arefe defended what he called "our brothers in Fallujah after the Iraqi government launched its military campaign to recapture the city form ISIS control.
On May 24 and on his Facebook page, Al-Arefe prayed that God destroys the rejectionist Shia forces (Iraqi forces) attacking Falluja and bring defeat to them and to shield "our brothers in Fallujah" from them.
Link to AL-Arefe post
https://www.facebook.com/3refe/posts/10153963641237839
AlArefe who enjoys close ties to the Saudi Monarchy, continues to hold his post as a professor at King Saud University in Riyadh (the kingdom's largest), and host several television shows. He also travels around the world with the support of the Saudi ministry of foreign affairs, most recently to China and Brazil.
In his other TV appearances, Al-Arefe explained the proper way to beat one's wife, and spoke on the ultimate goal of annihilating all Jews.
British television station run a report on AlArefe's link to several; British members of ISIS who traveled to Syria.
http://www.itv.com/news/2014-06-23/banned-preacher-under-scrutiny-over-links-to-young-cardiff-men-fighting-with-isis-in-iraq-and-syria/
British Channel 4 also ran a similar report on AlArefe connection to recruiting British Muslims for ISIS
https://youtu.be/qnpfsr9p7n4
The British government subsequently revoked his visa and excluded him from United Kingdom.
In this sermon called "Oh Syria! – Victory Is Coming" he calls on Muslims to join what he calls jihad in Syria by funding fighters or by joining them " Those who wants to go there can find a way"
https://youtu.be/KYSp9zS9I50
AlArefe gave many speeches in Saudi Arabia, Egypt, Turkey and Jordan among others on the emergence of an Islamic khelafah from Syria, repeating the moto "A khelafah on the path of the prophethood," which happens to be ISIS official moto.
https://youtu.be/vTdbdmbkX9E
In another speech AlArefe says that "undoubtedly, devotion for jihad for the sake of God, and the desire to shed blood, to squash skulls, and to sever limbs for the sake of God and in defense of his religion is a great honor."
https://youtu.be/WVHqg4aNnXs
AlArefe speaks on the Tunisian men joining jihad in mass to raise the Khelafah.

AlArefe also spoke on the ultimate goal of annihilation all Jews using the talking tree narration.
https://youtu.be/eG86ruJdiM0
Link to AlArefe's photo with Bin Salman
https://twitter.com/MohamadAlarefe/status/724662086308126720
More lectures of AlArefe promoting joining terrorist and extremist groups in Syria, Iraq and others.
https://youtu.be/NWkCSMHFMQ0
AlArefe extremist teachings are not limited to encouraging violence but extended to encouraging violence against women, and child marriage. Such teachings led to his ban from Kuwait, UAE and most European countries.
https://youtu.be/mx0u-JayUeE
AlArefe explains how to beat one's wife.
https://youtu.be/khzUue8DRLg
AlArefe says there is no minimum age for marriage
https://youtu.be/_LJonb7HO_U
Mohamed bin Salman has already met with CIA Chief John Brenan, Secretary of State John Kerry, Defense Secretary Ashton Carter, House Speaker Paul Ryan, and Minority Leader Nancy Pelosi. He is set to travel to New York and Los Angeles to meet business executives and bankers including Google. The trips schedule has been organized by the Podesta Groups, closely tied to Hillary Clinton.