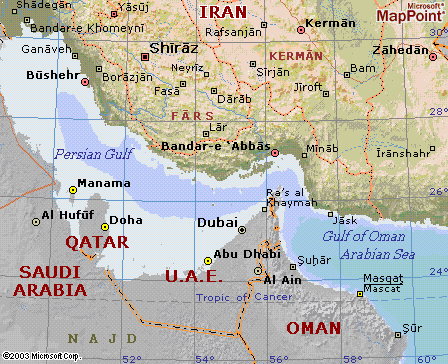 Gulf Weekly Review, August 4-11
Persian Gulf, Oil
After producing record oil outputs at close to 10 million barrels a day, Saudi Arabia, along with OPEC announced plans to decrease the amount of oil they're outputting. However, it is expected that Saudi Arabia will still out produce its annual production this year. The decline is due to a loss in global demand especially in key consumer, China. The oil sanctions on Iran by the US and Europe also appear to be working as Iran posted its lowest output numbers in more than 20 years. Iraq meanwhile has greatly benefited from the sanctions as it has seen its oil producing levels increase to their highest levels since the US-led invasion almost a decade ago.
Saudi Arabia, Interpol
In one of the most controversial moves by the international police organization, Interpol has issued Red Notices for more than 10 protesters in the oil rich Qatif, Saudi Arabia. The Red Notices follows Saudi Arabia's ongoing attempt to crackdown on those suspected on being involved the protests which have now managed to spread beyond the Eastern Province. This is the first time Interpol assists any government against protesters during the Arab Spring casting doubt on the legal standards by the international organization.
Syria, Aleppo
After heavy fighting, consisting of 20000 government and pro-government forces and 6000-8000 rebel forces in the Syria's largest city, Aleppo, government troops managed to seize control of key rebel strongholds. Despite being pushed back, rebel groups vowed to hit back and will continue fighting for control of Aleppo. The Aleppo battle is the largest in the Syrian conflict, and will determine its outcome. The UN's refugee agency also said that it has now registered close to 150,000 refugees in four neighboring countries.
Iran, Syria Conference
Seeking to counter U.S., Western, and U.S.-aligned Sunni nations, Iran hastily convened its own conference addressing the crisis in Syria this week and to keep up international support for Syrian President Bashar al-Assad. Attendees included Russia, China, India, Algeria, and members of the Arab League. Iranian officials say they won support from attendees to halt all violence and for dialogue between Assad and the rebel groups following the President's "reform" program. Following the resignation of Kofi Annan, Iran has been seeking to gain a greater diplomatic role and has repeatedly offered to host talks between the Syrian leader and the rebels. However, rebel groups have shown no interest in the talks considering Iran's policy is to keep Assad in power.
Saudi Arabia, Islamic Conference
Saudi Arabia's King Abdullah Bin Abdul Aziz invited Iranian President Mahmoud Ahmadinejad to attend an emergency Islamic conference to be held this week in Mecca to primarily discuss Syria. While Saudi Arabia and Iran have taking conflicting stances over Syria, President Ahmadinejad has accepted the invitation. According to Institute for Gulf Affairs sources, Riyad Farid Hijab, who was Syria's Prime Minister from June to until he defected August 2012, is also expected to attend the conference.
Bahrain, Revolution
Russia has sent a proposal to add Bahrain and its crisis to the UN Security Council's monthly agenda. While the Security Council has held multiple emergency meetings on Syria, Bahrain has all, but fallen off the Council's monthly agenda.
Andrew Bond is the Assistant Director at the Institute. He can be contacted via email at Andrew@gulfinstitute.org or at (202)466-9500.